Welcome to Total Drama School
A brand-new role-play created by
DXG4Ever
based on the Canadian animated television series
Total Drama Island
. Sign up for a character on
DXG4Ever's talk page
and get playing - be careful though, every challenge you play, you'll risk elimination if your team loses! Don't forget to have fun!
<script src="http://connect.facebook.net/en_US/all.js#xfbml=1"></script>
July 26, 2014
This wiki is dead but remains online as an archive of a neat old RP. If you want to add your own fanfiction for some reason, we're not here to stop you, but please don't mess with our old TDS pages. Leave a message on my wall if you need to talk about the Wiki, or if you're an old friend and just want to chat. Thank you! --JVM (Talk) 11:17, July 26, 2014 (UTC)
Poll Time!
How would you rate Total Drama School?
Challenge Time!
Hey Guys Challenge 14 Draw a Pic of your characters Cell phone
Helping out
To write a new article, just enter the article title in the box below.
Featured article

Cody
labeled the
"The 'A' Student"
is a student on
Total Drama School
. He is a member of the
Killer Teachers
. He returned to
Total Drama Fans VS. Favorites
and is on the
Favorites
. In
Meet Our Students Part 1
, he came out of the school bus after
Owen
. He was shocked to see that his cousin was competing. He was later put on the
Killer Teachers
. During the first part of the challenge, he said his favorite food is candy, his favorite drink is apple juice, and his favorite color is tan. In
Meet Our Students Part 2
, he made a video of his best moments on Total Drama Island. Although his team lost, he felt perfectly safe. When he learned that both teams get to vote, he voted out
Alejandro
, resulting in his elimination. In
Is This Some Kind of Joke?
, he was one of the first students to wake up in the morning. When
Gwen
got up, he asked if she wanted to go get a drink together. She said no to him. During the third challenge, his joke was, "Knock Knock... Who's There? Atch... Atch Who? Oh I'm sorry, I didn't know you had a cold." After
his team
won the challenge, he worried about
Gwen
getting voted off at the elimination ceremony. When he heard that she wasn't voted off, he was relieved.
Read more...
Featured Quote!
Head over to the Featured Quote Nomination Thread to vote for your favorite quote!
Featured Image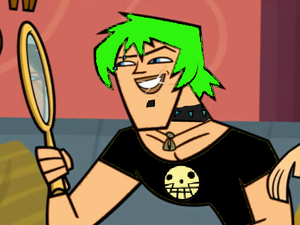 Duncan and Justin's color swap
Featured User!

(Go to the Featured User Nomination Thread to nominate a user to be featured. Whichever user gets the most votes will be displayed here.)
Userboxes!
If you lost, won, or are competing in Total Drama School, then put one of these on your user page! Only $9.99! Aimers and Codyfan9000 made these userboxes!
Just put Competing in double brackets
Just put Compete in double brackets
Just put Winner in double brackets
And now for Total Drama Fans VS. Favorites userboxes!
Just put Competing2 in double brackets
Just put Compete2 in double brackets
Just put Winner2 in double brackets